CSSA Study Trip to Strasbourg and Brussels Has Been Completed
We made our study trip in which we met leading right defenders and international nongovernmental organizations in Europe and visited European Council as well as European Court of Human Rights, with 10 student participants on November 28 – December 3, 2021. 
Through issuing a clarion call before the trip, we invited student activists striving in different areas on their campuses to apply. Applications were assessed by an independent council of evaluation and in result, 10 students were chosen for our trip. Alican Nazik, Can Bodrumlu, Elif Cansu Gümüşpala, Esma Demiryürek, Esra Demirel, Tutku Demirtaş, Ufuk Aydın, Uğur Yıldırım, Rozerin Korkmaz and Zeynep Günhan participated in the trip which we went first to Strasbourg and then to Brussels, along with Berna Akkızal, the director of our association.
European Court of Human Rights and Atilla Nalbant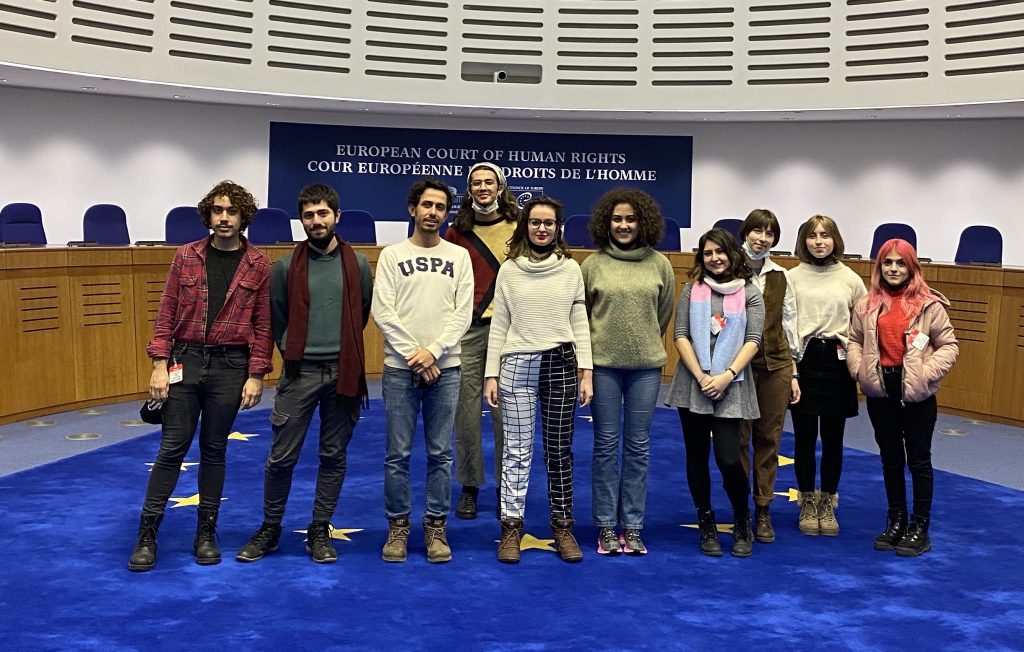 We together with our fellow students visited the European Court of Human Rights as the first stop of our trip and met Atilla Nalbant there. We listened to Atilla Nalbant's presentation about the operation of the court and asked our questions.
Uğur: Our meeting in the European Court of Human Rights conveyed very well how the court operates in essence. For the ones who want to do politics or to engage in political sphere, it was a session showing how law diverges from politics and what its boundaries are. After that session, to see the dissociation and perhaps even "tension" between political sphere and legal sphere made room for my questioning how law can be utilized or how transformations regarding law are also matters touching on political sphere.
Rozerin: In this trip which I joined as an activist from Turkey, I formed an opinion about why and in what ways formal institutions and nongovernmental organizations in Europe approach activism. I learned how to resolve the unfair issues we have experienced, in legal domain within our country and how to bring them to ECHR in case they can't be resolved.  In addition, I saw that for not only nongovernmental organizations but also formal institutions, working in an organized, independent, enduring and partly confederated/umbrellaed manner makes managing things far more efficient.
European Council
The second stop of our trip was the European Council. During the program which lasted for nearly two hours, we toured the European Council, visited the General Assembly chamber and had a chance of attending a lecture on the history and importance of the Council.
Elif Cansu: Our trips to Council of Europe and European Court of Human Rights helped me to grasp some concepts which my friends and I talked about and discussed before. Previously, accessibility of those institutions seemed distant and abstract but now they got more concrete. Talking to people working there and their answers to our questions informed me a lot about Europe-Turkey relations.
European Implementation Network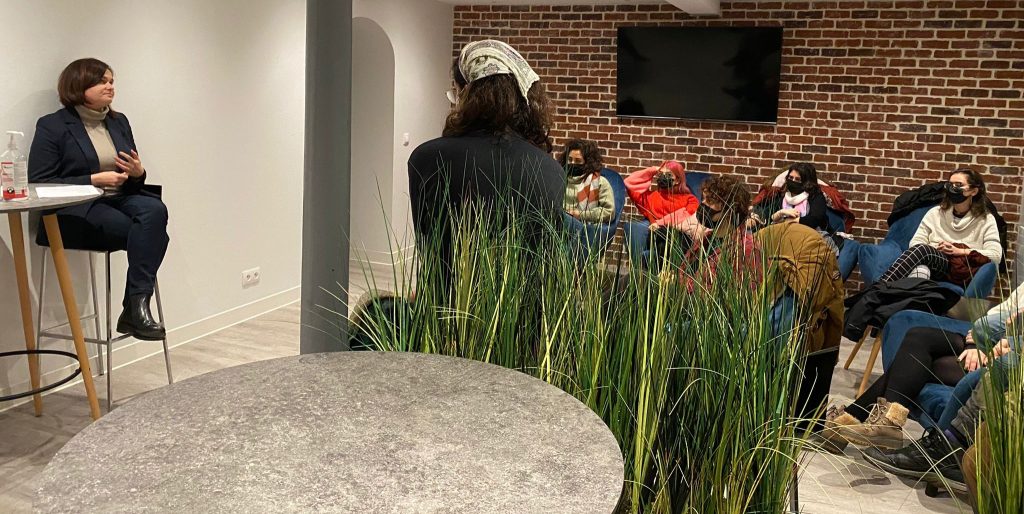 Our last meeting in Strasbourg was with European Implementation Network through which we had a chance of hearing about their efforts for the enforcement of ECHR's decisions. We also had a chance to talk about the decisions they monitored regarding Turkey.
Esma: A matter which frequently attracted my attention during our meetings on the trip was that regulations concerning rights and freedoms along with equality and democracy seem quite beautiful in theory but when it comes to their results in practice, they are restricted especially because of political and economical reasons. While some of the decisions made by European Court of Human Rights aren't enforced and right violations still continue to occur, I believe that European Implemantation Network's efforts for the enforcement of the decisions are more realistic, solution-oriented and capable of making a difference.
Can: In particular, our meeting with European Implementation Network was interesting. During the trip, I think, it really contributed to our discussions on how to solve the crisis- especially rising from increasing populism, encountered in the international arena by the institutions established in Europe after years of efforts. Since EIN gave an idea in this respect, that is, an idea about what nongovernmental organizations can possibly do in a national scope after ECHR's decisions, I found it quite beneficial.
Sergey Lagodinsky – A Member of European Parliament
In the following part of our study trip, we were in Brussels. Initially, we had a meeting with Sergey Lagodinsky, a member of European Parliament and talked about Turkey-European Union relations. Sergey Lagodinsky answered students' questions.
Elif Cansu: Meeting with Sergey Lagodinsky and Nacho Sánchez Amor was quite inspiring. Until then, I hadn't listened in person to any views and efforts about Turkey belonging to someone who was foreign and holding political office. It was such an improving experience which those individuals discussed and interpreted our sayings through the values they represent.
Nacho Sánchez Amor – A Member of European Parliament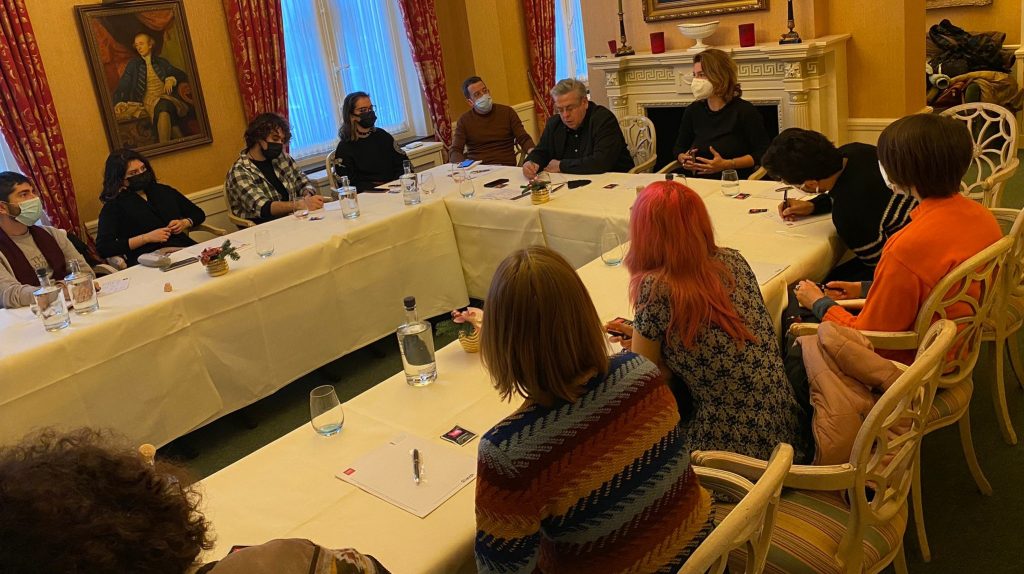 In our trip which continued in Brussels, we had a meeting with Nacho Sánchez Amor, a member of European Parliament and got informed about especially undertakings which they have managed together with European Union Delegation. We were afforded an opportunity to converse about the future of European Union relations with Amor who allocated a vast majority of his undertakings to Turkey.
Uğur: The meetings we had with European Union representatives were realistic meetings. The conclusion I derived from the meetings with two representatives was that: it is not the case that Turkey is a determined supporter of being an EU member and neither is public in political sphere. Because of this lack, any kind of influence exerted by the EU would be considered as an attempt of "foreign interference" and lose its legitimacy. Those meetings relatively provided a rationale for the question of why the EU is silent. Besides, witnessing the plurality prevailing in the internal functioning of the EU was also nice. Although what we already observed among some top-level officials from Europe- including some presidents and prime ministers, was discourses like "Turkey is not a part of the EU and won't be," seeing that such discourses do not depend on any general consensus and that they are indeed positions opposed by many parliamentarians who are still expecting and trying to maintain harmonization processes was also significant. I thought they had a realistic attitude towards Turkey and all the questions on my mind were answered.
European Youth Forum
Owing to recent Covid-19 situation, we held an online meeting with European Youth Forum. Its representatives apprised us about the structure and study areas of European Youth Forum managing worldwide projects.
Elif Cansu: Our meetings with European Implementation Network, European Youth Forum, ILGA and European Endowment for Democracy were extremely informative as well as supportive. All the things spoken here seemed especially sincere and realistic to me. According to me, they are people who fully comprehend our troubles as well as understand or try to understand the problems we experience. Those were the meetings which promoted my opinion about activism and made me feel not alone.
Esra: For the reason that European Youth Forum is an umbrella organization established for improving the lives of youth as a group vulnerable all around the world, yet at the same time possessing a significant capacity in number, I think it is a project of great importance. While the rights of young people aren't protected through international agreements or constitutional provisions, an NGO gathered in order to improve those conditions is of great value.
The International Lesbian, Gay, Bisexual, Trans and Intersex Association – Europe (ILGA-Europe)
Our next meeting in Brussels was with the representatives of ILGA-Europe- a prominent organization in Europe working on LGBTI+ rights. We had a conversation about their areas of study and the campaigns they run in Turkey.
Zeynep: In our meeting with ILGA, we were informed about intenational LGBTIQ+ solidarity by the individuals and it was an empowering experience for me. Now, I can imagine much better the path followed by the queer movement outside Turkey. I can say that I've returned from the trip together with new questions and new ideas within the scope of my latitude.
Rozerin: I saw how a functioning nongovernmental organization could be by directly observing the functionality of ILGA and I am sure that it will help me with my organization experience in Turkey. I offer my thanks to Civic Space Studies Association which provided us a chance to express the insufficient aspects of those institutions yet at the same time to see their innumerable good aspects.
Andrea Karlsson- European Endowment for Democracy (EED) Representative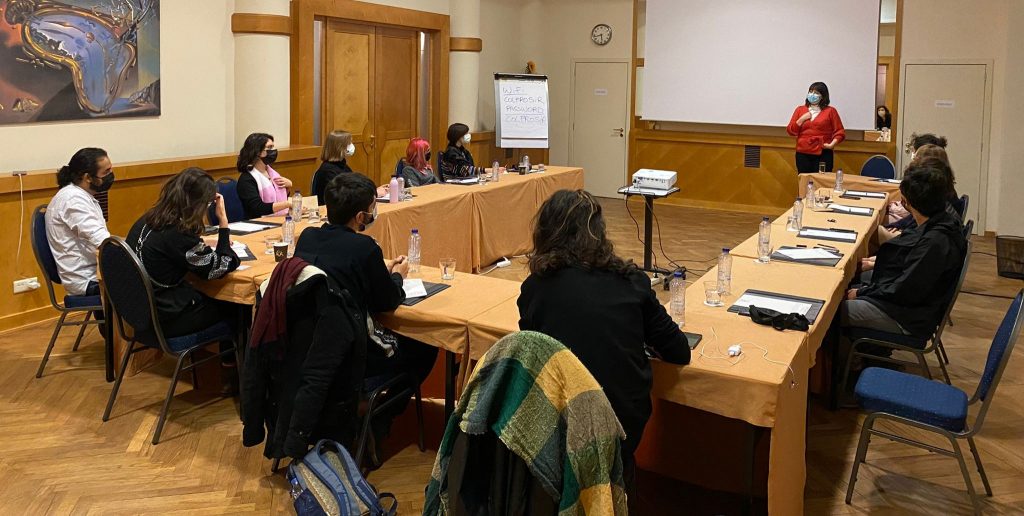 We held our last meeting with Andrea Karlsson, European Endowment for Democracy (EED) representative. We talked about some examples of the campaigns which they run in Turkey and funding opportunities.
Alican: While our meeting with European Parliamentarian Sergey Lagodinsky which took place on the third day of the trip and our final meeting with ILGA and EED were especially inspiring, they also showed that their European centered entities are able to make a contribution to "the excluded" if they wish. Given that those three meetings ended by words promising hope for the minorities in Turkey, I predicted a bright future for integrated rights advocacy.
Ufuk: First of all, our study trip helped me making sense of the motivation and methods through which official institutions as well as nongovernmental organizations in Europe work. European values on which the network of politics and nongovernmental organizations built, on the one hand, secure compromise and deliberative political stance and on the other, prevent the multicultural structure from conflicting in itself while the deep respect for the roots of the entity render the system working. Although they are recently subjected to criticisms about moving away from European values and they don't even have a tendency to tackle refugee and migrant crises through those values, the system which I witnessed in our trip showed me that Europe has the capacity to resolve the issues with negotiation and if it fails, by addressing nongovernmental organizations. Taking present-day Turkey into consideration, where almost all the system has been rendered dysfunctional, culture of compromise and deliberation has disappeared and all the citizens- especially those who are LGBTI+, woman and of a separate ethnic identity, feel insecure in fundamental areas including right to life, right to a fair trial and freedom of the press and expression, I thought that integrating European values into our existing system is extremely significant. If we succeed in establishing a system which is built on those core values, we can give shape to it through our own unique color and we should. I express my thanks to Civic Space Studies Association which contributed to the revival of that very belief.
We are truly grateful for our interviewees who made this study trip possible and our fellow student activists who attended the trip!